Quick Links

Buyers Guide
Wholesale Needlework Sources
Yarn Tree
Publisher Of The Needlework Retailer and Needlework Distributor
Retail Store Photo Gallery
View All
Needlework Retailer News Blog
This is a free service for 6x advertisers. Each day the Needlework Retailer News blog features a new product from the previous issue of the magazine. Readers can view the post in four ways: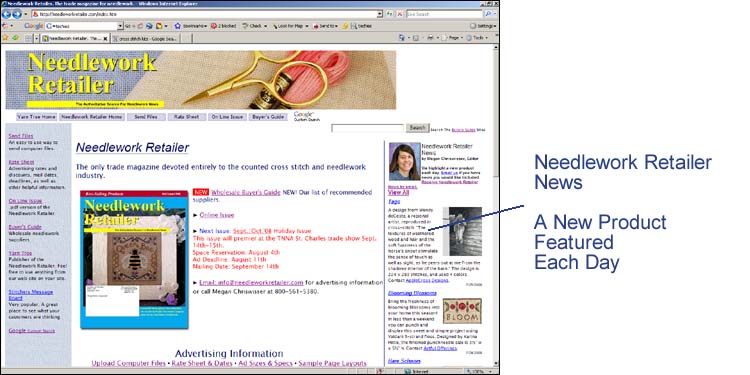 The Needlework Retailer News blog is another way we help you sell more product. Your free posting gives you:
More exposure. The blog is seen by both stores and consumers.
Credibility and name recognition. Seeing your name and products in multiple locations increases the effectiveness of your ads.
Added search engine exposure. Blog posts are indexed by search engines like Google within hours. [for the techies: the link to your site does not contain a "nofollow" attribute]
Tips
Blogs are meant to be interactive. Feel free to post additional information about the product, related products, etc. Just click the Comments link under the post. (Your comment will not show up immediately. Comments are reviewed before posting to prevent spam.)
Use the blog on your website. There are several options:
Add a link just to your product review. Easy to do. Just click on the 'Permalink' link below the post. Copy the URL into your page as needed.
Add a link to the blog. Easy to do. Just copy this link http://yarntree.typepad.com/needlework_news into your page as needed.
Add the RSS feed to your page. Easy to do (it just looks hard). The entire blog can be automatically fed into your site. This lets you add fresh content to your site each day without any work. This is how we feed the Needlework Retailer News blog at http://yarntree.typepad.com/needlework_news directly into our main page at http://needleworkretailer.com. It looks best to create a table box on your page and insert the feed into the box (that is what makes the blog show up as a long, narrow box). Just copy and paste one of these texts to the html code of your page. This code already has a table, just insert and edit text as you like. This code does not have a table and should be inserted in a table you create. [The links may open as a web page. Either go to view page source and copy and paste, or save the page and open in a text editor. Call Larry at 800-247-3952 if you have a problem.]
Because of the limited number of posts (one per day) we are not able to do all the products shown in each issue. We try and pick what we think is the most eye catching for each advertiser, but if you have a particular product that you would like to have included please let us know.